MOROTAI, Indonesia — As the most popular destinations around the world grapple with the problem of overtourism, finding a beach or island that you can enjoy all to yourself for a peaceful and quiet vacation has become a luxury.
Everyone knows Bali, but not a lot of tourists have heard of Morotai. Located in the Halmahera group in North Maluku (once known as the Spice Islands), Morotai is one of Indonesia's northernmost islands.
Home to white sand beaches, diving spots, World War II relics and rugged forests for trekking, Morotai offers an alternative for those looking to get away from the crowds.
"Indonesia is made up of over 17,000 islands, but most international tourists tend to focus just on Bali," noted Minister for Foreign Affairs Republic of Indonesia Retno L.P. Marsudi.
To spread the impact, Indonesia has embarked on a "10 New Balis" project identifying tourism hubs for priority development, which includes the upgrading of airports and infrastructure to increase connectivity, and activities to boost awareness of the relatively unknown destinations.
In a familiarization tour organized by the Indonesian Ministry of Foreign Affairs, media, travel bloggers and social media influencers from Southeast Asian countries and Japan were invited to experience the beauty of Morotai Island firsthand.
The main draw of Morotai is its natural beauty. Tourists can enjoy swimming and snorkeling in the turquoise waters lining the various islands that dot the coast and relax in native bungalows at beach resorts at night.
Remote virgin beaches like Pasir Timbul, a bare sandbar in the middle of the sea; Kokoya Island, where swarms of tiny fish swim under the dock near the crystal-clear shores; and Dodola Island, two islets connected by a sandbar that visitors can cross by foot during low tide, offer stunning destinations for island-hopping trips.
In Rao Island, tourists can visit Batu Kopi, a mysterious stone formation that emits the aroma of coffee despite there being no coffee plantations or trees on the island.
Because of the island's strategic role during World War II, Morotai also offers an interesting destination for history buffs, with several museums and landmarks displaying remnants and artifacts from World War II.
The Swadaya World War II museum in a village on the outskirts of the Southern Morotai district is privately managed by Muhlis Eso, a local relic hunter who has amassed a large collection of World War II artifacts. His house has been converted into a mini-museum displaying the various bullets, old guns, coins and other war memorabilia he dug around his residence.
Primarily known for shark and wreck diving, Morotai also offers a unique destination for divers. The island has at least 28 identified dive spots with sunken aircrafts and warships scattered among colorful coral reefs.
View this post on Instagram
View this post on Instagram
View this post on Instagram
According to Samuel Samson, Special Advisor to the Government of Morotai, tourism is still fairly new, as Morotai was established only as a separate district in 2008. However, they expect new investments to aid in the development, connectivity and tourism promotion of the area.
"We would love to see Morotai as a clean, green and smart island. Infrastructure is important, but everything must be done with the protection of the environment in mind," said Samson.
The local government has engaged with Jeju Island to study their zero-carbon initiatives and are interested in utilizing electric-powered vehicles in the future. Plans are underway to build more sustainable resorts on the island as well and turn the area into a trade hub for seafood.
The first-ever Morotai Festival was recently held to promote and increase awareness about the island. The festival featured fun dives, fishing competitions, swimming races, local bazaars, a boat parade, and a cultural night with traditional music and local bands.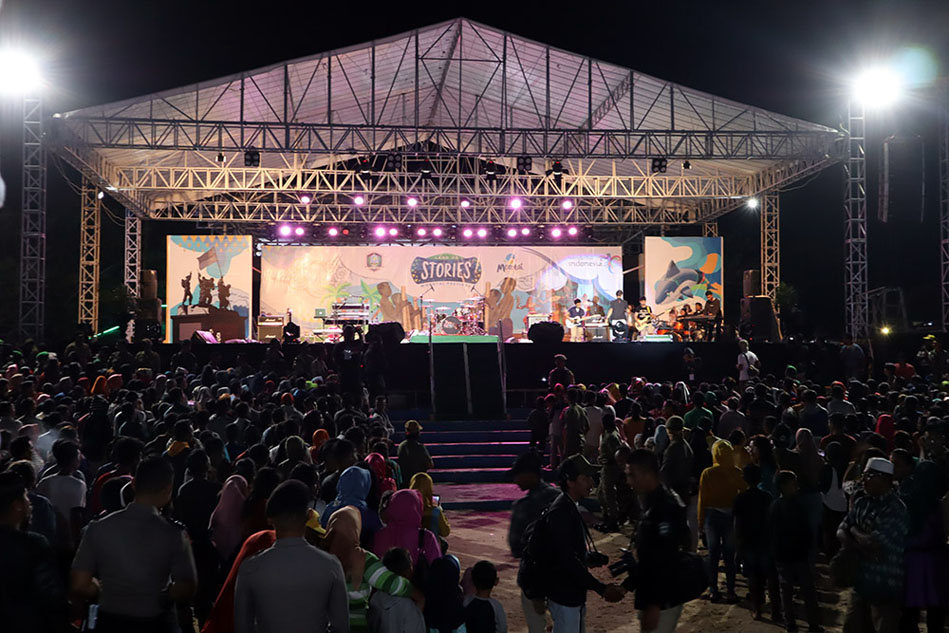 Morotai Festival 2019. Kara Santos
"We organized the festival so we could attract attention from Jakarta as well. Because this is a remote area from Jakarta. The direct flight already takes 3.5 hours. Since Indonesia is quite big, connectivity is not so easy," said Samson.
Currently, Morotai is accessible by a flight from the Indonesian capital of Jakarta to Manado, the largest city and main gateway to Northern Sulawesi and a shorter connecting flight with a stopover at Ternate. For Philippine travelers, the revival of direct flights from Davao to Manado (1 hour 15 minutes), via Indonesia's national airline Garuda Indonesia, is expected to draw more travelers from both sides.
Aside from Morotai, the other priority areas identified as "10 new Balis" in Indonesia include Lake Toba in North Sumatra, Tanjung Lesung in Banten, Kepulauan Seribu in Jakarta, Tanjung Kelayang Beach in Bangka Belitung, Borobudur Temple in Central Java, Mount Bromo in East Java, Mandalika in West Nusa Tenggara, Labuan Bajo in East Nusa Tenggara and Wakatobi in South Sulawesi.
This article has been publish on News.abs-cbn.com with the title "Indonesia's Morotai Island offers a quieter alternative to Bali".
https://news.abs-cbn.com/life/08/24/19/indonesias-morotai-island-offers-a-quieter-alternative-to-bali.
Author: Kara Santos